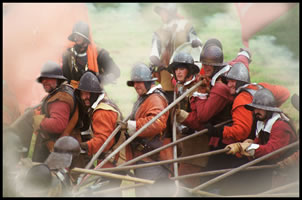 Ashby Street is a small village five miles due east of Felpersham in Borsetshire. In the spring of 1643 it was the scene of a battle between Parliamentarian forces led by Edward Dighurst and a Royalist army under the command of the Earl of Grantham.
The Parliamentarians were seeking to secure the villages and towns around Felpersham, the main Royalist base in the county, in order to invest the city. A skirmish between Parliamentarian dragoons led by Captain Harbottle Grimstone and a detachment of cavaliers under the command of Charles Marchmain preceded the main battle.
The clash was was one that modern military professionals would describe as an 'encounter battle', both sides having liiterally 'marched to the sound of the guns' on hearing of the skirmish between Harbottle and Marchmain's forces, and deployed off that march to fight.
In other words a game of DBR is scheduled for this weekend...